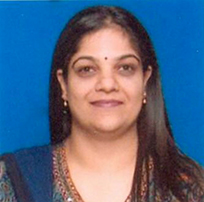 Dr. Seema Singh,
Professor and Director, SCCE, Pune
Dear All,
A very warm welcome to SCCE, Pune !!!
I feel a profound sense of responsibility for continuing Symbiosis International (Deemed University)'s proud legacy of groundbreaking ideas since our inception. Our responsibility of imparting transformational educational experiences to our students is our prime concern.
I realize that we stand at a unique moment in time in business education and welcome the challenges that lie ahead to give our working students, through value added education the competence and character to face global challenges.
Lectures, group discussions, role plays & case studies help internalize concepts & make learning a fruitful experience with the faculty & peers.
I feel proud of each and every student's achievements in their work places and understand their struggle to balance the work place demands and yet continue their education. We, at Symbiosis, strive to offer the best faculty with relevant industry & academic exposure, which gives our corporate students the best of both worlds.
To benchmark Symbiosis Centre for Corporate Education, Pune (SCCE, Pune) as an Institution-of-choice for the best students globally, I have full faith in our faculty who are chosen from the best available and are recognized as authorities in their field by practitioners and by other academicians.
I take this opportunity to wish the very best to all our students to imbibe the values, ethics and capability to work with changes in their own right and also to become future leaders, with specialized knowledge, skills & the attitude to win !
Once again would like to wish all our students exceptional success!
Dr. Seema Singh
Professor and Director, SCCE, Pune